BEIRUT: Consumers across Lebanon and the Middle East are slowly becoming more digital in their purchasing decisions, moving from showrooming toward 'webrooming,' which is the action of evaluating a product online before placing an order.
While the e-commerce market in the region touched the $40 billion mark in 2016 and is expected to reach $45 billion by the end of 2017, the increase is inconsistent from country to country due to the uneven rate of digitization in each nation, and their respective businesses, and governments, according to a report by McKinsey & Company, a business management consultancy firm.
"Several countries—including the United Arab Emirates, Bahrain, and Qatar—are leading the digital consumer charge, with high smartphone adoption rates and social media use, while other countries with weaker digital penetration are struggling to keep up," the report said, noting that these leading GCC countries are among the top users in the world, with more than 100 percent smartphone penetration and more than 70 percent social media adoption.
Nonetheless, the region is still lagging behind the global e-commerce landscape, with the lowest percentage (53 percent) of people purchasing a product online in the last month, compared to the colossal online activity of the Asia-Pacific region (82 percent), and followed with a tie between Europe and North America (73 percent) and a second to last Latin America (65 percent), according to a recent study conducted by Global Web Index, a UK-based marketing consultancy firm.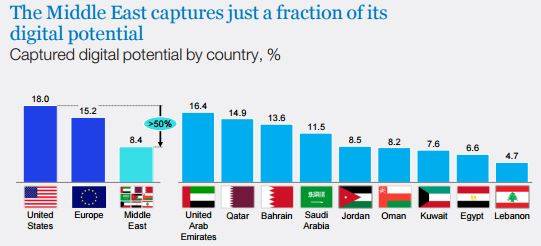 Article Link: https://en.annahar.com/article/575838-as-ecommerce-slowly-grows-in-the-region-lebanon-lags-behind